Introduction: "The Ultimate Guide HubSpot CRM For Small Business" HubSpot CRM is a powerful tool that can Revolutionize the way Small Businesses Manage their sales and customer interactions.
It's a user-friendly platform designed to help small businesses streamline their sales processes, manage customer relationships, and grow their business.
By providing a centralized database for all customer-related information, HubSpot helps businesses build more meaningful and Personalized Relationships with their customers.
This platform offers a range of features to help small businesses optimize their sales and marketing efforts, including contact management, email marketing, lead tracking, and analytics.
Its CRM is also highly customizable, so Businesses can tailor the Platform to their unique needs and Goals.
Overall, HubSpot CRM is a valuable tool for small businesses looking to improve their Sales Processes and grow their Customer base.
Here are Some Important Points to Consider When it comes to using HubSpot CRM for Small Business:

Best CRM For Small Business
Contact Management: HubSpot CRM provides a centralized database for all customer-related information, making it easy to manage and track customer interactions.
Email Marketing: The platform allows small businesses to create and send marketing emails directly from the CRM, as well as track Email Performance Metrics.
Lead Tracking: HubSpot provides tools to help small businesses track and manage leads, from capturing Leads on their website to tracking their Progress through the Sales pipeline.
Sales Pipeline Management: The platform provides a visual representation of the sales pipeline, making it easy to Track the progress of deals and identify Areas for improvement.
Reporting and Analytics: HubSpot provides robust reporting and analytics tools, allowing small businesses to measure and optimize their sales and marketing efforts.
Customization: The platform is highly customizable, allowing small businesses to tailor the CRM to their unique needs and goals.
Integration: Hubspot CRM can be integrated with a variety of other tools and platforms, including social media, email, and customer support software.
Free Option: Its CRM offers a free version of its platform, which can be a great option for small businesses with limited budgets. While the free version doesn't include all of the features of the paid version, it still provides a lot of Value and can be a great way for Businesses to get Started with CRM.
Customer Support: HubSpot offers a range of customer support options, including a robust knowledge base, community forum, and support team. This can be especially valuable for small Businesses that may not have the resources to hire a Dedicated IT team or CRM expert.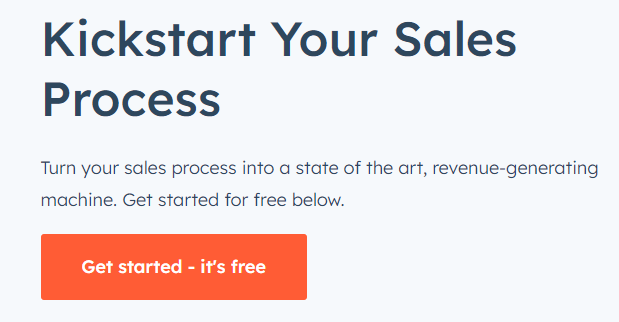 Go to the HubSpot website and click on the "Pricing" link in the Top Menu.
On the Pricing Page, you'll see the different HubSpot Products Listed. Click on "CRM" to see the Pricing Plans for HubSpot's CRM product.
There are three pricing plans available for HubSpot CRM: Free, Starter, and Professional. Review the features and limitations of each plan to determine which one is right for your needs.
If you want to try the Free plan, click the "Get Free CRM" button to sign up for a free account. If you want to sign up for a paid plan, click the "Start Free Trial" button next to the plan you want.
Fill out the sign-up form with your information, including your Email Address, Company Name, and other details.
Enter your Payment Information if you're signing up for a Paid Plan.
Review the terms of service and click the "Create Account" button to Finish Setting up your HubSpot CRM account.
Once your account is created, you can start using HubSpot CRM and take advantage of its features to Manage your Contacts, sales pipeline, and more.
Note that HubSpot may offer different Pricing Plans or changes to the existing ones in the Future, so be sure to check their website for the latest information.
Here are Some Frequently Asked Questions about using HubSpot CRM for Small Businesses:

CRM for small businesses
What is HubSpot CRM?
HubSpot CRM is a Free Customer Relationship Management Software that helps Small Businesses manage and Organize their customer Data, track deals, and Sales, and Automate their Marketing and Sales Processes.
How much does HubSpot CRM cost?
HubSpot CRM offers a Free Plan with basic Features and Limitations, as well as paid Plans Starting at $50 per Month per user with Additional Features and benefits.
Is HubSpot CRM easy to use?
Yes, HubSpot CRM is known for its user-friendly interface and intuitive design, making it easy for small businesses to get started with using the software.
What kind of businesses can benefit from using HubSpot CRM?
Small businesses of all types and Industries can Benefit from using HubSpot CRM, especially those that need to Manage and organize their customer data, Track Sales, and Deals, and automate their marketing and sales processes.
Can I integrate HubSpot CRM with other tools?
Yes, HubSpot CRM Offers integrations with a wide range of Tools and applications, including Email Marketing Software, Social Media Platforms, and E-commerce Platforms, to name a few.
How can I get started with using HubSpot CRM for my small business?
To Get started with using HubSpot CRM, simply Sign Up for a Free Account on the HubSpot Website, and Start exploring the Features and functionalities of the Software. You can also take Advantage of HubSpot's Free Resources and Support to Help you Get started and Optimize your Usage of the platform.
Final Conclusion:
In general, HubSpot CRM can be a good option for Small Businesses as it offers a range of features and integrations to manage customer interactions and sales processes.
However, the suitability of HubSpot CRM for a specific small business will depend on factors such as their budget, specific needs, and level of Technical expertise. It's recommended to thoroughly evaluate the platform and its features before making a decision to ensure it aligns with the business's goals and requirements.