What reason is that Why I should do Email Marketing.
This easy to get an Email. It is something that is almost available, You can also work practice at Home. Can think about something this.
How often do you Check your Email? Once? Twice?
So are you checking it right now?
How many percentages of people is that check their Emails at least once a day is?
30%
50%
90%
You Can Get It.
Approximately 90% of people spend quality of times with them inboxes each day.
This means that the email is probably a channel, Which is very surprising that it will be at all of its customers and fans. And that's where email marketing comes from.
What types of emails I can send that.
Quick Guide to Types of Email can Send that You.
Promotional E-mails (Potential Customers to buy a product and service)
Regularly sent E-mails (Customers and loyalty to a product or service are encouraged. Such as- eBooks, free course, video training, Newspapers, Webinars etc.
Autoresponders (Autoresponder is an electronic device that which e-mail automatically answers sent to that)
Cold E-mails
There are Two types of Email Marketing.
Legit (Permission Marketing)
Illegit (Spamming)
Legit: This way of email marketing, you can collect Emails and building Lists.
Illegit: This way of email marketing, you can buy an email list and send bulk Email.
What is the difference between Single Opt-In and Double Opt-In?
Single Opt-In- In this kind of Email Marketing is confirmed email list on single opt-in, anybody can submit an anybody email address to the list. It will remain in the list until it is unsubscribed.
Double Opt-In- In this kind of Email Marketing must confirm email list before they are added. You can request for confirmation is sent to the submitted address and the address owner must take some action to confirm.
Best participate tools/platforms for Email Marketing–
Mailchimp
Get Response
Send Grid
Aweber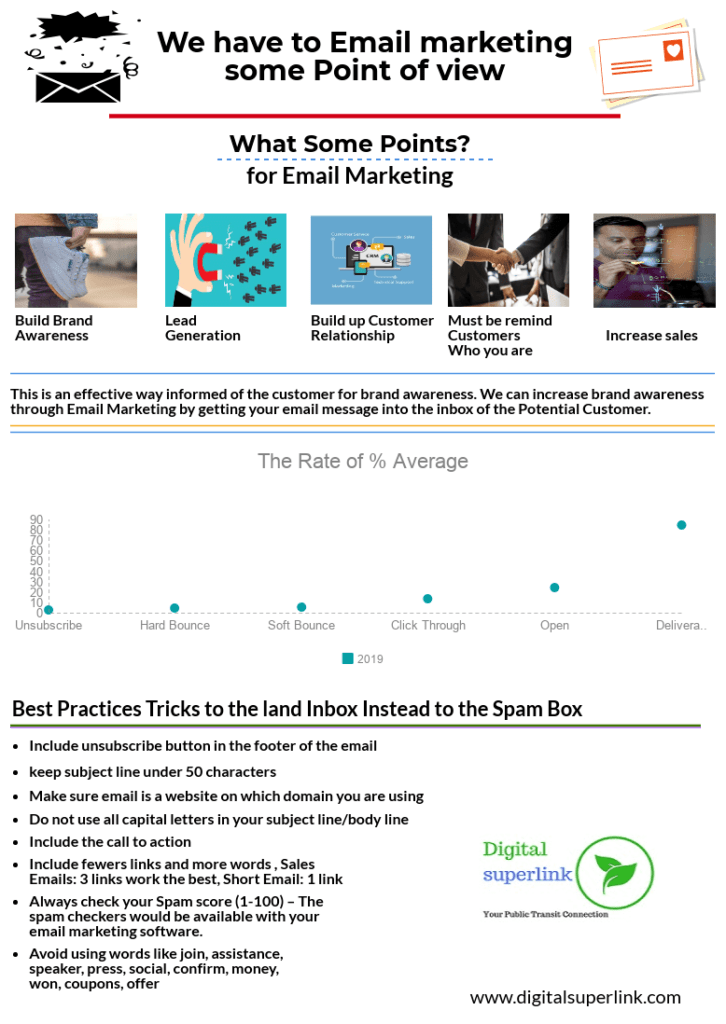 The basics of Email Analytics you can measure a lot.
#Click-Through Rate (CTR)- How many people percentage who clicked on your email a links image.
#Conversion Rate- In this case, take the percentage of those people. The action your email asked them to do.
#Open Rate- How many people percentage who opened your email.
#Unsubscribe Rate- The percentage of people decided to unsubscribe after receiving their emails.
#Bounce Rate– Bounce rate represented the percentage of sent messages that couldn't be delivered.
These are two types:
Hard Bounce- When occur delivery is attempted to an invalid email address. Email address does not exist.
Soft Bounce- These are automatically removed from your list and get response soft bounces to occur when the email server encounters an issues. For Example- When the mailbox is full, In Other case, When We were sending the email the server was down.